Month 9: (Week 36 – 40) –

Well done – you've reached the home straight



This last month of pregnancy may be an emotional one for you as the birth approaches and you encounter many issues related to it. Will I cope with the birth? Will I be able to breast feed? Will I be a good mother? Worries about the baby and whether it is normal may intensify during this time. Keep in mind that change is always a challenge and that this is one of the greatest upheavals that you will ever go through, causing you to reassess your relationships and your perceptions of yourself and those around you. Your greatest tool in this situation is knowledge, so read up about birth, labour, pain relief and any other subject that bothers you. Your childbirth class discussion sessions are a good way to air what is on your mind in sympathetic and supportive environment. If none of this applies to you then equally pregnancy, labour and childbirth can be intensely satisfying experiences for some women.
Oops I need the loo again!
Any time during this month the baby should drop down into your pelvis and 'engages'. The head of the baby moves right down into the pelvis in preparation for labour. The engaging of the baby's head may be an indication that the baby's head will fit through the pelvis, but the converse is not necessarily true – in the vast majority of cases even a baby who is not engaged when labour starts, will be born without problems. Engagement should bring some relief to your breathlessness which was caused by the height of your uterus, right under your ribs, but may spell the return of needing the toilet often and the bladder comes under pressure. The baby is now so large that there is not much room for the athletics of former months – however there will still be plenty of action going on inside your uterus, and the parts of your baby which cause bulges in your stomach may be indentifiable as a foot or head.
Waiting for the birth day
The estimated due date is only accurate in 5% of births, and a delivery two weeks either side of the due date is normal. Try to be stoic about this as every day overdue can feel like a month! Statistic show that 9 out of 10 babies are born by 10 days past the due date, and your doctor will be keeping a close eye on you to ensure that your placenta is still able to support the baby. During this time your important job is to monitor the baby's movements (see normal baby movement) and really take things easy in preparation for the birth.
See also: When to call the doctor?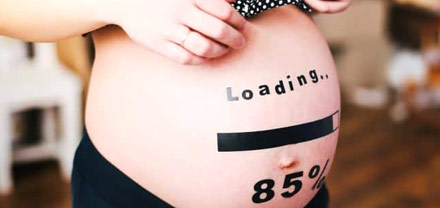 What's new in next-level Babycare & Pregnancy...
Never miss a thing

*Important : The information provided is for information purposes only. No medical diagnosis or prescription can be inferred or is implied. Please consult your doctor for medical advice.
Stay updated on all things Baby & Toddler