Father's mood during pregnancy

It isn't unexpected that my wife's moods have been up and down since she fell pregnant. But why am I having mood swings? It doesn't seem logical, and I know that my wife is really struggling to cope with my moodiness. What is going on?
You may be amazed to hear that there is scientific proof that up to half of the partners of pregnant women experience hormonal changes related to the pregnancy. It is completely normal for men to experience pregnancy symptoms, such as nausea and weight gain! It is possible that an increase in female hormones is responsible for your symptoms.
Of course it always worth starting with a doctor's check up so ensure that you are not actually ill without realising it. But once you have the all clear, it is time to really think about the things about the pregnancy that are troubling you. For some men, feelings of overwhelming sympathy with the trials and tribulations of pregnancy can cause them discomfort. Maybe stepping up the support could help you feel better about the situation – a bit more help around the house and with the chores that you partner finds the toughest, could help both of you feel a bit better. It's possible that you are feeling jealous and left out as your wife experiences all the symptoms. In this case perhaps you could discuss these feelings with your wife and find ways to be more involved in the progress of the pregnancy – reading up and going to classes with her is one idea. These suggestions would also be helpful if the problem stems from your anxiety about the health of your wife and child. Accept that this is an anxious time in your life, and then look for ways to lessen the fear. Mixing with other pregnant couples is a way to realise how normal and common your fears are. Discussing your feelings in this kind of company can provide enormous relief for some couples.
Once the baby is born your symptoms will most likely disappear, as you embark on the exciting adventure of fatherhood. So even if none of these suggestions help, just try to do what your wife is doing, and manage best you can through the many changes you need to face. It's worth it!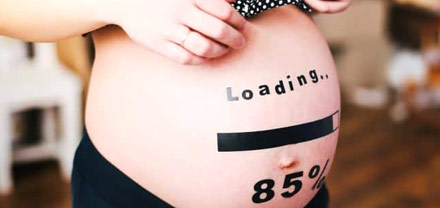 What's new in next-level Babycare & Pregnancy...
Never miss a thing

*Important : The information provided is for information purposes only. No medical diagnosis or prescription can be inferred or is implied. Please consult your doctor for medical advice.
Stay updated on all things Baby & Toddler