Bottles – Advice from NUK

[NUK First Choice Awarded Best Bottle Leading Baby Magazine 2004]
Nuk First Choice is a new bottle-teat-system, designed especially to meet the needs of both mother and baby. Developed after extensive testing, it's been proven to meet the requirements of an ideal bottle feeding system.
• The orthodontic Nuk treat with new, extra-wide lip support and the Nuk Air System* – your baby can completely relax while feeding, without disrupting vacuum build up. *Minimizes infant colic by harmful swallowing of air.
• Easy identification of teat hole size on the base of the teat – the sizes S/M/L are matched to the different consistencies of the various infant feeds.
• Snap-on closure – the protective cap clicks audibly into place and helps to keep the teat hygienically protected.
• Easy-grip screw ring – for easy opening and closing.
• With new, extra-wide neck – to make filling and cleaning even easier.
• The bottle sizes have been increased to 150ml and 300ml to allow more room for mixing.
• Also available: learner bottle with removable ergonomically designed handles and easy to drink soft non spill spout. The perfect way to introduce your child to cup feeding.
Nuk please contact us at: Tel: (011) 430 5600.
P.O.Box 130782, Bryanston, 2074
www.nuk.co.za
Nuk and Nuk First Choice are registered trademarks owned by MAPA GmbH, Zeven, Germany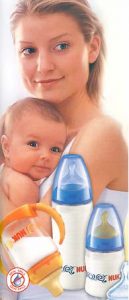 What's new in next-level Babycare & Pregnancy...
Never miss a thing

*Important : The information provided is for information purposes only. No medical diagnosis or prescription can be inferred or is implied. Please consult your doctor for medical advice.
Stay updated on all things Baby & Toddler